Thursday, September 9, 2010
Don't let life discourage you; everyone who got where he/she is had to begin where he was.

—R. L. Evans
Feelings of discouragement are to be expected as part of life. We will have our times of greater energy and hope and our times of feeling depleted and lost. As we mature we learn to see many peaks and valleys across the landscape.

Giving ourselves over to feelings of discouragement is self-indulgent and saps our strength. We cannot see into the future. The dailiness of our lives isn't always dramatic and doesn't usually offer great changes. But we are part of an unfolding process. Looking back over just a week or a month, we can recall troubled times that now seem insignificant. We see other' people and their progress, and we know they too grew just one day at a time and couldn't see what the future would bring them. So we continue - knowing that our process is hopeful - even though we cannot foresee the details of our future.

I have the strength to live through the peaks and valleys and to stay faithful to my recovery.
From Touchstones: A Book of Daily Meditations for Men ©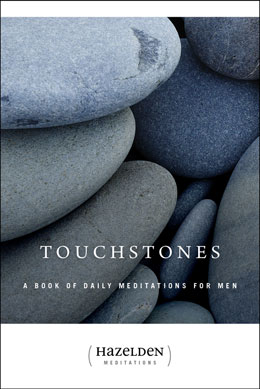 *******************************
Twenty-Four Hours A Day
Keep It Simple
One of the best ways to persuade others is with your ears---by listening to them. ---Dean Rusk
We hate being told what to think. We like to make up our own minds. It helps to talk things out with another person who, listens to us. Someone who care what we think. We can give this respect to others. We can listen their point of view. We can try to understand them and care about what they think. When we do this, others start to care what we think too. We share ideas. The ideas get a little more clear. They change a little. We get a little closer to agreement. We both feel good.
Higher Power, help me know when to listen and when to talk today. Work for me and though me. Thanks.
Today, I'll look for chances to listen to others when I really want to talk. I'll say, "Tell me more about that." And I'll listen.
One Day At A Time
Attitudes
Whatever is done is over. It cannot be changed.
But my attitude about it can be changed through talking with those who
have gone before and with sponsors. . .
If I change my actions in regard to what I have done, my attitude will change.
I won't have to wish the past away.


- Daily Reflections, p. 141



Thought to Ponder . . .
Attitudes are contagious. Is yours worth catching?
AA-related 'Alconym' . . .
A A = Altered Attitudes.
********************
The direction of your desires


Y

our authentic desires tell you about what you already have more than they tell you about what you don't have. They lead you toward fully expressing and experiencing the real value that is already yours and the richness that you already have access to.
Desire is about who you are and what you value. As such, following your desires is not selfish, but rather a pathway for giving of yourself.
Desire is your way of telling yourself what you're capable of experiencing. Desire is your way of helping yourself to understand what is truly meaningful.
Desires are nothing to be ashamed of. They are expressions of the value you have to give.
Live your dreams, fulfill those desires, and don't hold yourself back out of embarrassment or guilt. All of life is yearning for the unique value that you and you alone are able to contribute.
Let your life unfold in the direction of your desires. Embrace whatever comes your way with a perspective of love and appreciation for all you truly desire.